Midwest Insurance Agency Alliance (MIAA) recently hosted an online panel discussion of three principal owners of insurance agencies located in South Dakota, Missouri and Kansas. The participants were selected from among MIAA's Circle of Excellence group of agency owners who have demonstrated thought leadership and innovative approaches to operating their businesses.
The discussion was held on the theme "Impact of Covid-19 on independent agents and the way forward".
Participants:
Aaron Hansen
Meyer Insurance, Watertown, SD
Mark Miller
Summit Hill Insurance, Lees Summit, MO
Geoffrey L. Gobble
Boulevard Insurance, LLC, Overland Park, KS
Moderated by Doug Meacham
MIAA, Lincoln, NE
It's a Strange New World – 3 Takeaways from MIAA Insurance Agency Panel Discussion
Takeaway #1. Technology is key, and we have some work remaining to integrate disparate systems.
Amongst all three panelists, there was agreement that technology was key to preparedness for the pandemic and the transition of staff to work remotely while continuing to service their clients without interruption. Having a cloud-based agency management system, VOIP phone and other digital investments already in place made responding to the crisis go much smoother.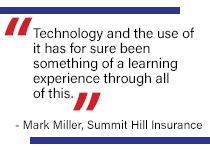 Each in their own way, these principals were already looking for the next step in fully utilizing different technologies and integrating them with each other including interaction management systems, SMS text messaging, collaboration and document sharing platforms and call recording software. A key driver in decisioning which platforms to utilize was integration with agency management systems.
For these agencies, this crisis has put their technologies in place to the test – either further affirming their value or surfacing gaps in how they operate, usually with agency management systems. Two of the agency owners were considering a new AMS to enhance their integration capabilities.
Takeaway #2. We must be willing to adapt and do business in the manner our clients want
While the three agencies varied in size, makeup of their book, and operational models, all were in complete agreement that this experience has solidified their view that their agency's future success requires them to fully adopt the clients' preferred method of doing business, with a good part of it utilizing modern technologies.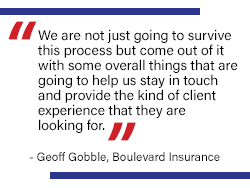 While conceding that Boulevard Insurance is used to an "old school" approach to doing business, they have embraced the process of expanding their way of selling, servicing and communicating with clients, Geoff Gobble shared. The use of email and text messaging has increased but he is not seeing much of an interest in video conferencing, and the agency utilizes it primarily for staff meetings.
Aaron Hansen emphasized that the younger generation wants to engage with businesses over digital channels, and to ignore that fact would eventually lead to losing out to direct channels and other competitors who are doing that well.
Takeaway #3. The pandemic has presented opportunities we may otherwise have missed.
For all the panelists, their agencies are experiencing a surprisingly steady level of business activity. "We've been seeing some slippage on non-standard business, which had a 25% retention anyways so it is not a great fit for us, and we are not overly concerned," Aaron Hansen reports, "We have seen a reduction in the flow of business but the quality is much better. Our existing commercial accounts are growing."
Summit Hill Insurance has used this time to conduct some outreach to clients via mail and email, with positive response. Mark Miller reports that calls coming in have resulted in some good conversations. Home refinancing and real estate sales have kept things busy in personal lines and the agency has seen an uptick in cyber liability policies.
Boulevard Insurance is also seeing a lot of activity in the real estate market and is benefiting from new home sales. Carrier rebates and refunds on personal auto has been received by clients very favorably.
All three agencies find themselves writing more life insurance policies now. "Its timely. People are dying from this thing. The concern is there," said Geoff Gobble. For Aaron Hansen, a lack of local companies willing to conduct the para-med have resulted in carriers waiving the exam requirements altogether. An increase in automated underwriting process, especially for young clients has also contributed to the life insurance sales process getting easier.
From an operations standpoint, the shift to a remote workforce, at least in part, has shifted their thinking on what is possible with respect to staffing, and has made them rethink the need for office space and how to best be of service to their clients. All agreed that having flexibility to add or keep quality staff regardless of their location was extremely beneficial.
MIAA would like to thank these Circle of Excellence members for sharing their experience with the network, and we wish them continued success as they come out the other side of this experience.