5 Layers of Income
No Minimum Premium Thresholds
Midwest Insurance Agency Alliance (MIAA) & SIAA stand apart from our competitors because we offer more opportunities, partnerships, and income than any other network of independent insurance agents.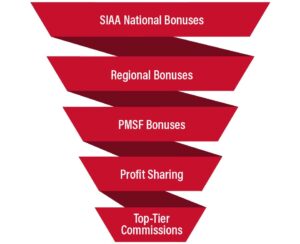 Member Support & Resources
Membership with MIAA affords much more than access to top-rated insurance companies. Together with SIAA, MIAA provides the total solution — a range of agency development and marketing support that enables our member agencies to grow their business and increase their value while retaining their independence. As an independent agent with MIAA your opportunities are endless.
Company and Market Access
Become instantly BIG
Carrier access through our regional and national Strategic Partner Carriers
Excess and Surplus Lines, Specialty markets and Program opportunities with MarketFinder
Enhanced Revenue Programs
Higher commissions, overrides and growth bonus potential with our Strategic Partner Carriers
Discounts and support for Agency Automation and Management Systems
Learn to target market commercial lines with The Business Insurance Advantage
Premium Financing Service

Portfolio Management Service Fees (PMSF): Quarterly and year-end
Agency Development Services
Agency Foundation to help establish your new agency
Training, Education and Continuing Education for Licensing Opportunities
Agency Development
Marketing, Advertising, and Lead Sources
Access to events and members-only content from our Circle of Excellence group
Office supplies and shipping discounts through national vendor partners

Create a solid perpetuation plan